Pāmu and SLC Group jointly own Spring Sheep Dairy NZ LP. We are able to bring both organisations' expertise together, to create the best pastures, employ the best farm practices as well as process and deliver top quality products for you to enjoy.

Pāmu is owned by the New Zealand Government and is New Zealand's largest farmer with over 1.6 million stock units producing milk, beef, lamb, venison and wool for supply to global partners and customers.

Pāmu's farming philosophy guides Spring Sheep Milk Co.'s farming practices – we care for our animals, we employ best in class farm management practices and we farm to ensure that our environment is left in excellent conditions for our future generations.

SLC Group is a marketing company that specialises in taking the very best New Zealand products to consumers all over the world. Small and agile, SLC Group has a track record in providing specialist skills, experience and resources to ensure that only the best products leave New Zealand shores and that they are tailored and refined to meet the needs of our global customers and consumers.

click here to visit Pāmu's website
SCOTTIE CHAPMAN
CHIEF OF SPRING SHEEP
NEW ZEALAND
Scottie's passion is designing and enthusiastically implementing international sales strategies. He likes dabbling in strategy, branding and big picture stuff, but the truth is, Scottie loves building businesses with great products and he's good at it. Scottie has a Bachelor of Commerce.
NICK HAMMOND
CHIEF OPERATOR, NUMBER CRUNCHER,
AND LEGAL EAGLE
Nick loves numbers and supply chains. He operates the business and works to make sure that your products are the best they can possibly be. A man for precision and detail, Nick has the place running like clockwork and is a passionate advocate for all of our products. Nick is a Chartered Accountant, has a Bachelor of Commerce and a Bachelor of Law.
ANDREA WILKINS
CHIEF MARKETER, BRANDER
AND COMMUNICATOR
Andrea is our brilliant marketer and equally as quick-witted as she is creative, she is the driving force behind the brands. Andrea has 15+ years experience in marketing and a couple of innovation success stories under her belt. Her goal is to create a truly global sheep milk brand that New Zealand can be proud of. Andrea has a Bachelor of Science, majoring in Human Nutrition.
JOHN RYRIE
CHIEF SHEPHERD, FARMER,
MILKER AND CARER
John is our farm captain. Having been involved in milking sheep for many years he has become somewhat of a global expert in the care of these special animals. He knows exactly what is required to ensure our sheep live a long, happy and healthy life. John has worked on dairy farms throughout Europe and he chairs the British Sheep Dairy Association. Born and raised in Scotland, John is enjoying the challenge of working in the Southern Hemisphere on our Spring Sheep Milk Co. farm.
SHANE TOPP
GENERAL MANAGER – SALES
Shane is our key connector and partnership maker. With over 20+ years of senior sales experience, his mission is to take our sheep milk products to the world. A master negotiator and relationship builder, Shane establishes the best deal for all parties involved. While he is frequently earning Airpoints from preaching the benefits of sheep milk to the globe, Shane can otherwise be found golfing on the West Coast links of Auckland.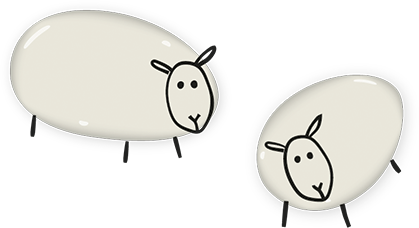 Joining Scottie on the board is...
MICHAEL AHIE
CHAIRMAN
Of Taranaki, Ngā Ruahine and Ngāti Ruanui descent Michael is dedicated to helping create the commercial and cultural success stories that help New Zealand organisations thrive.

Nimbly straddling a number of high profile roles in academia and the public and private sector, Michael lists Chancellor of Massey University, Chair of Plant & Food Research and the Inland Revenue Risk & Assurance Committee amongst his responsibilities. He is the steady hand on the tiller of the Spring Sheep board and revered by his colleagues for his clear-thinking pragmatism and calm Bond-like demeanour. Michael received his First Class Honours degree from Massey University.

PETER MCCLURE
PROFESSIONAL DIRECTOR
Peter is the director with the in-depth dairy expertise and arguably the best beard. Most recently he was managing director of Fonterra New Zealand and prior to that of Lion Breweries and of SC Johnson and Son. He now splits his time between directorships and his roles as Board Chair of World Vision NZ and as a director on the board of World Vision International.

Between surf trips, Peter plays a vital role advising the team about the various intricacies of fast moving consumer dairy goods - a very special beast. In 2014 Peter was awarded Member of the NZ Order of Merit for his services to industry, and to philanthropy.

STEVE CARDEN
CHIEF EXECUTIVE – PĀMU
Steve is a curious chief – he is an author, start-up entrepreneur, management consultant, seed lover, innovator – with a passion for a strong New Zealand. A provocateur of 'the norm', Steve provides thought leadership and challenges to get the best thinking on the table and then actioned for results. Steve has a Bachelor of Law, a Bachelor of Arts and an MBA from Harvard Business School.
TONY MARKS
PROFESSIONAL DIRECTOR
Tony is a director of all trades and master of many. Over his working career, Tony has led a number of companies in the export FMCG, primary industry, tourism and airline industries. A professional director now, Tony plays a key role in supporting Scottie and his team to develop the right products to meet consumer needs. A born storyteller, Tony is the man to go to, to ask anything and get the right answer. Tony has a Bachelor of Arts from Harvard University.